I would think the last thing people want to hear is more "things you can do during the pandemic" but I have been inundated by people/organizations I work with on creating messaging. But again, they are also thinking of ways to remain connected so maybe its still not needed. I was having a conversation with one of my high school athletes about the "lack of season." Although this is detrimental to the progress of the sport it is a unique opportunity to add more focus on controlled and appropriate condition, or in the case of an athlete just coming off one season and going to the next, more recovery.
We are not able to have the contact we would like, so we are managing other ways. So what about us? I feel I have been fortunate in my career to travel the world, working and meeting practitioners that enhance and repair dysfunctional human movement. I have also spent a great deal of time treating these very same people. So in our downtime (some of us), be sure to practice self care, learn new techniques, further your knowledge, enhance business knowledge and RECOVER FROM YOUR OWN AILMENTS. I want to comment especially on the latter two.
I would sometimes get strange looks from students when I brought up this topic, not so much from practitioners once in business. You can be the best ____________ (fill in the blank of your area of expertise) but if no one comes to you, what difference does it make? Even non-profit organizations must generate revenue (even in form of stipends, donations, etc) to remain viable. Think of it this way, if you cannot keep the doors of your business open, you cannot help all of those people that motivated you to become who you worked so hard to become.
If you are in physical medicine of some sort (Athletic Training, Chiropractic, Massage Therapy, Physical Therapy, sport performance/conditioning/fitness) you have more than a 50% chance of being injured at any given time. A high percentage of these injuries can turn chronic have permanent change to your livelihood. Some even have to give up something they do. You would not allow your patients or clients to continue, you would decrease the negative stimulus, change mechanics, change volume and even restrict certain activities. We counsel our people as to why this is a necessary condition of progress, so we should do the same for ourselves, we deserve it. Then make sure this is a constant practice, self care.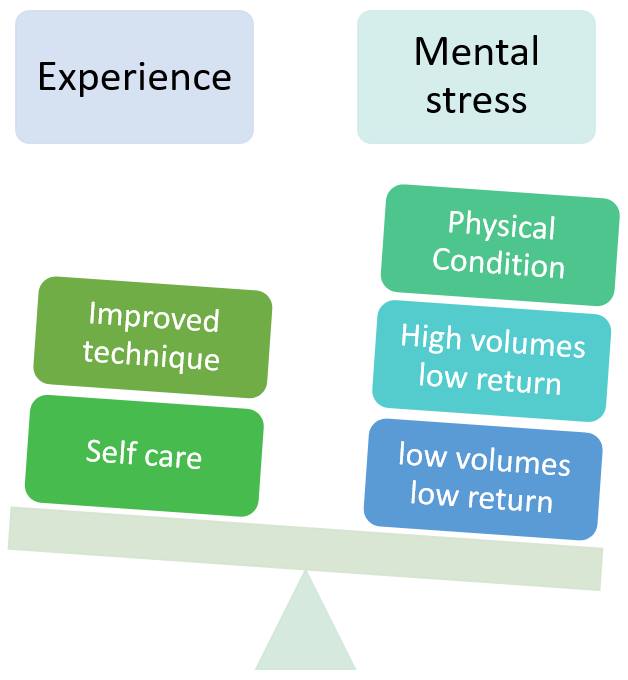 Categories: cognition